Joined

Oct 23, 2011
Posts

316
Likes

124
Location
Boat Make

Midland 19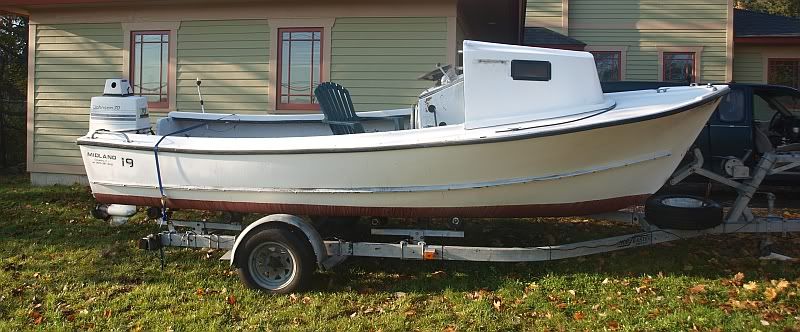 I officially started on the Midland this afternoon by assessing the 70 hp Johnson's condition. It was pretty obvious the boat has seen little use the past couple of years. The mice had a public housing project underway beneath the engine cowling. I evicted them with the ShopVac. The wiring connections were all corroded so the next hour was spent getting current flowing once again through the wiring. The engine had been fogged so I put in fresh plugs and gave the carbs a shot of 2 stroke starting fluid. She started and died, I made several attempts and by playing with choke and throttle managed to get it running for a few minutes. I noticed there was no water flowing from the cooling tattletale.
Once the engine was warm , I pulled the plugs and did a compression check, 60-55-58 PSI. Not very encouraging but certainly not unexpected, I can't expect much from a 30 year old outboard used on a commercial fishing boat. Considering the cooling tattletale is not flowing the engine may be cooked.
Tomorrow I'll give it another go before declaring the engine junk. I'll get the air leaks out of the fuel hoses and get the motor running better. I'll check that the tattletale isn't just clogged and I'll try another compression check.
I think I'll stop by the Honda dealer on the way home and see what a 50hp outboard will cost.....