I've been working on this project for the past couple weeks and thought I'd share . This will be my third season with my 10 pot hobby license. It's been a lot of fun pulling the pots, you never know what's going to be in there. But traps are not easy on the awlgrip, nor are they easy on your back as you're pulling them up and over the gunnel. So my goal this season was to fab something. I have a small MIG with a spool gun for welding aluminum. It's great for small projects and I'm good at melting metal, but the grinder is my friend for cleaning up the welds..
I picked up some 2" ID raw aluminum tube for the local welder. A friend was nice enough to lend me his bender. I watched a couple tutorials on utube on using the bender and picked up a couple tricks. The key is to fill the tube with sand and pack it in there. You can cap one end with duct tape and fill'r up, pack it in there and cap the other end with duct tape. The sand will disperse the load and keep the tube from collapsing as you bend it.
Another trick is to cut some scrap pieced of tube to place between the tube and the black rollers. The aluminum is soft so the scraps disperse the load on those 2 areas and prevent making dimples as you bend.
As you can see, I didnt have a bench to work on so I had to lay the bender on its side since the tube was so long. I was very happy with the bend. You have to give the press a couple extra pumps before releasing the pressure. When you do, the tube will retract slightly.
The next phase was welding on a piece of stock so I could eventually drill a hold and be able to hang the block from. I also welded on an end cap for aesthetics.
To give the bar a little support , I used some 3" bar, made a couple miter cuts and welded in a support and it this point the davit itself is pretty much complete.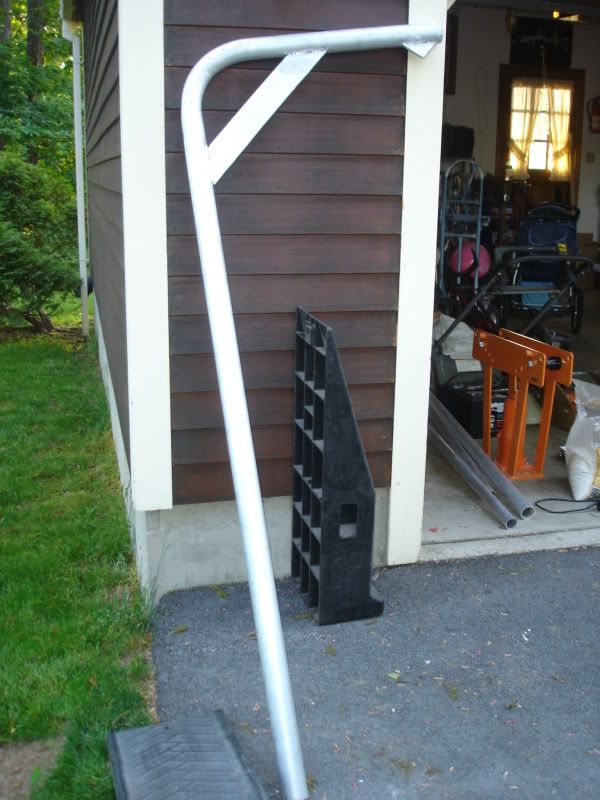 Mounting the davit to the Mako was the next step. I used some aluminum plate cut 4x4", drilled a 2.5" hole in the plate and 4 mounting screws and attached to the gunnel cap.
I don't have a pic of the base, but that was made from the same 4x4" plate, but I welded a 3" piece of 1.5"ID tube to the plate. This way the davits base will slide over the smaller tube and keep the base from kicking out. To keep the davit from swiveling, I drilled a hole through the base and mount and installed a removable clevis pin.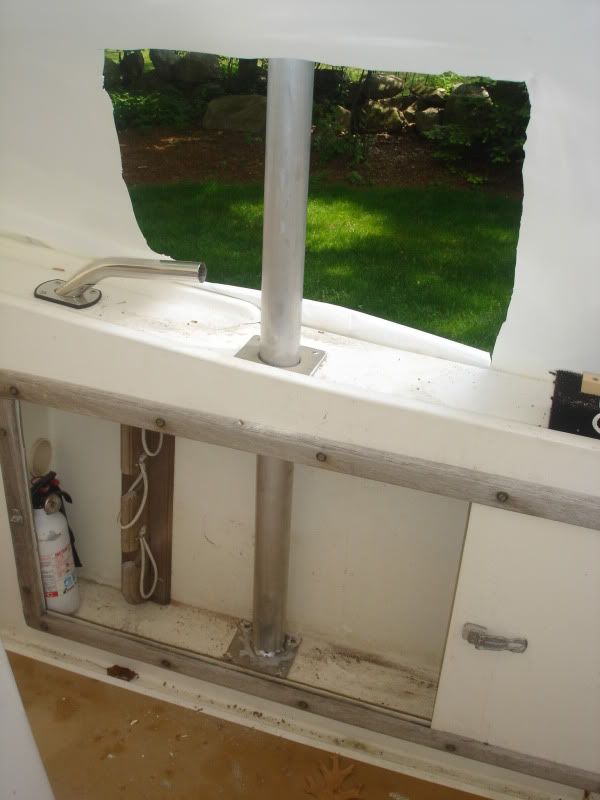 At this point its pretty much done and I just did some cosmetics. Four holes were drilled in the support bar to cut down on weight. The hole in the gunnel cap got glassed to protect the 35 year old core. And lastly, a block was installed. The block is Nylon reinforced and made by Folbe. So we'll see how it works this season